Is Your School Community Protected From Digital Threats?
884 million leaked records
across the globe in the Education sector, making it the third most affected by data breaches.1
Over 33% of schools
are more likely to say staff resources had to be diverted to deal with a cyber security breach.3
Ransomware: Target No.1
Educational institutions are the most targeted segment for ransomware in the UK.1
Only 75%
of primary and secondary schools have a cyber security policy.3
2x more cyberattacks
have affected educational institutions from August 2020 to February 2021.2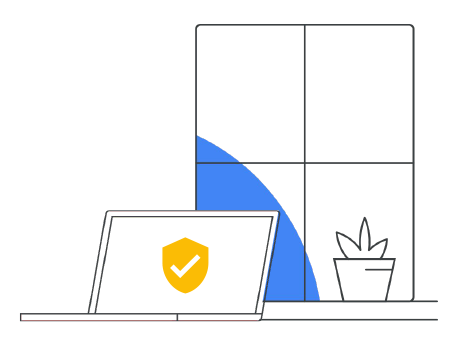 Tools to Provide Your Students with a Safe Learning Environment
Chromebooks
Choose from an array of form factors to fit your school's specific needs and rest assured that your community will be protected while remaining productive. 

Key security capabilities:
*Automatic updates ensure malware protection is up to date without you needing to do anything — every 4 weeks
* Verified Boot enables Chromebooks to self-check for malware and auto-repair if corrupted
* Security sandbox helps prevent the spread of viruses
* 128-bit encryption to protect every user's unique space
Chrome Education Upgrade
Centralise your Chromebook fleet management and unlock the full capabilities of Chrome OS, including access controls and advanced built-in security. Bundle Chrome Education Upgrade with new Chromebook purchases to simplify and speed up deployment.

Key security capabilities:
* Advanced security features that let you remotely disable devices, wipe user data upon sign-out, and more
24/7 IT admin support for troubleshooting assistance
* Fleet oversight capabilities within the Google Admin console simplify deployment
* Managed access and login controls restrict access as needed
Google Workspace for Education Standard
Enhance security, visibility, and control so you can more proactively manage and protect your educational data, including the personal information of your school community.

 Key security capabilities:
* Prevent, detect, and remediate threats with the Security Centre – including the dashboards, health page, and investigation tool
* Manage devices and apps centrally to perform audits and enforce rules
* Gain more insights with Gmail log and Classroom log export for analysis in BigQuery
* Track usage across your domain with audit logs for Drive, devices, LDAP, and more
Google Workspace for Education Education Plus
Education Plus transforms your institution with the most comprehensive Google Workspace for Education edition. It includes all the enhanced security features and premium teaching and learning tools from Education Standard, enhanced video conferencing, and more.

Additional security capabilities with Education Plus:
*Manage your mobile devices and data based on geographic region
* Identify and resolve problems faster with Classroom Audit logs
Start today with Google for Education
Choose the edition that's right for your institution. Use Google Workspace for Education tools or add enhanced capabilities to suit the needs of your institution.
1 Luke Irwin, "Education sector third worst-hit by data breaches in 2020," gdpr, February 23, 2021.
2 "Alert: Further ransomware attacks on the UK education sector by cyber criminals," NCSC, June 04, 2021.
3 "Cyber Security Breaches Survey 2021 Education Annex", GOV.UK, March 24, 2021.