Why SMART?
There's a SMART display for every classroom. Discover a range of high-quality interactive displays engineered for the simplicity teachers want. Easy to deploy and support, they're a solid investment for any EdTech budget.
Connect your devices and classroom technology, optimize remote learning and get students engaged – all while inspiring learners and teachers with powerful teaching tools and world-leading interactive education technology.
Why SMART displays are the best choice for today's classrooms:
SMART displays leverage your investments in classroom technology and infrastructure, so teachers use them more effectively.
SMART displays are engineered for the simplicity teachers want, with better touch, inking and personalization features. They're also simpler to deploy and support. Backed by robust warranties and support services, SMART displays are the investment you can count on for years to come.
SMART displays come with an always-growing set of teaching tools for student engagement. A built-in Android operating system and essentials like a whiteboard app and browser, lesson creation software, advanced inking tools, apps and widgets, ready-made activities and content are all included for free. No subscription required.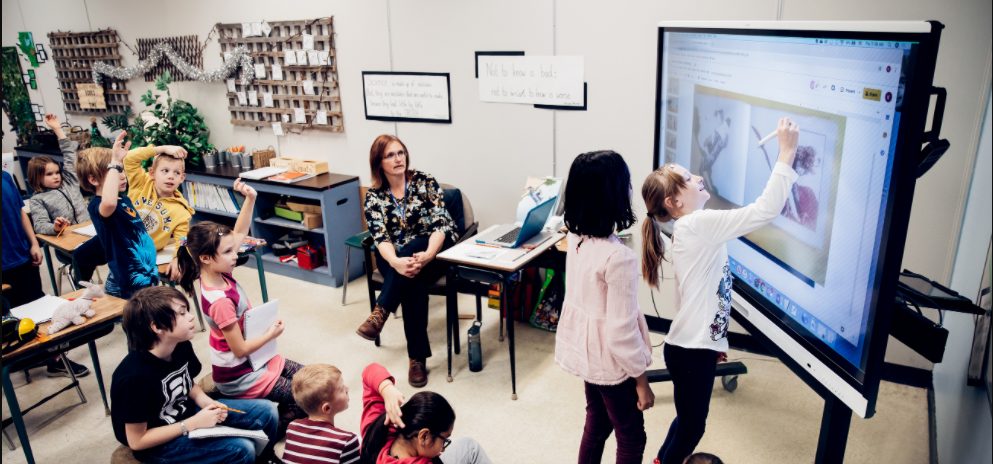 SMART Board MX Series
Central to dynamic, collaborative learning environments.
SMART Board® MX series provides premium-quality, brilliantly easy to use interactive technology at an affordable price, giving you more connected classrooms and engaging learning. Simpler to deploy, use and support, SMART Board MX series is a solid investment for every ed tech budget.
SMART Learning Suite
SMART Learning Suite is web-based software that helps you create engaging lessons students interact with through their devices, in class, remotely, or on their own time.
It's a flexible tool that supports active learning and collaboration by giving you the power to transform lesson content, ignite engagement, and capture insight into learning.
Import your own lessons and enhance them with engaging, customizable components, like games, activities, and collaborative workspaces. Then deliver them to student devices in a browser, via Google or through Microsoft® Teams.
Make learning visible as you and your students give and receive ongoing feedback about their progress. All this lets you create connected experiences that keep students focused, motivated, and actively learning through their devices.
Remote Management
SMART Remote Management provides a one-stop solution for education and business administrators to maintain, control, support and secure devices from any web browser. With intuitive dashboards and diagnostics, SMART Remote Management shows a summary view of SMART Board displays with iQ with the power to efficiently manage them all – no matter their location. Watch this video to learn how SMART Remote Management can help you support your SMART Board interactive displays with iQ.
Document Camera
Create dynamic, multimedia lessons with hands-on, interactive content in real time.
With wireless and cordless mobility, the SMART Document Camera enhances how teachers capture and display live images and video with sound. Teachers use the SMART Document Camera to show printed documents, objects and even microscope views anywhere in their classrooms, creating an interactive experience with SMART Notebook software.